As Spring returns, winter's quiet and reflective, relaxing lifestyle can get busy. I know mine does. We just finished up on our spring fund drive at KAOS community radio, and thank you to all the new and returning members that not only helped Wheel of Wonder reach its fundraising goal for the drive, but actually exceed it! Community without borders!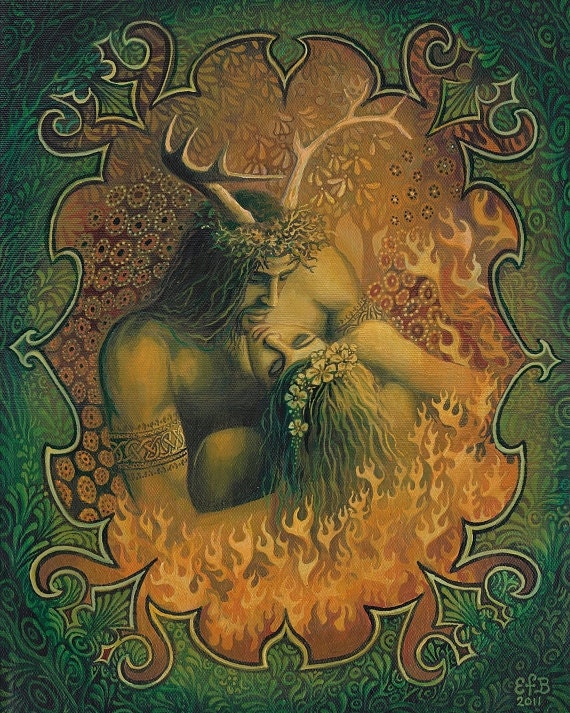 If your involved in your community starting just after St. Patty's day, there seems to be an event every weekend. I think, for an earth spiritualist a new event occurs every day, because spring and summer are returning! Migrating birds sing their song from the trees reminding us there is more beauty in the world than just what we see in our friends, children's and partner's faces. Their faces surrounded us through the winter months, bringing a natural warmth to the inside of our homes and the planning of our lives. We love that. Now the sun shines down warming us outside as the greys, browns, and gusts of wind are replaced by a rainbow of blossoms, the emerald budding of trees and the songs of the birds.
Today, is Beltane, a time to celebrate all the growth and fertility of nature and the first shoots of seeds we've planted at the turning of the spring and under the blessings of Bridgit's fire. The sun, he shines down on us and reminds us of life's return. These rays of hope and life brighten Mother Earth and we see her beauty even more clearly than before. Happy Beltane! May your inner fire again return, as you walk about surrounded by spring and summer beauty, feeding your creativity and your passion to do the great work you have awakened on this earth to do, and blessed be.
The picture above and to the right was found on Pinterest, but I could not find out who the artist was before the Pinterest "join now" filter blocked the view of my screen. Please let me know who it is and how I can reach their website if you know, so I can credit them. Thanks